Mail configuration information
Email Account Settings
This is one of the most asked questions being a Hosting Provider – what is my email configuration settings and where can I find it? The best place to find this is in the Welcome email you received when you setup your new Hosting account.
Login to your control panel > http://yourdomainname.co.za:2083 or http://yourdomainname.co.za/cpanel – replace "yourdomainname.co.za with your actual domain.
Scroll down to the "Email Accounts" tab. Inside you need to have a look at your email accounts you already created. On the right had side of each email account you will spot "Set Up Mail Client" – click on that and it will take you to the next page. See the picture below…
Enter "Email Instructions"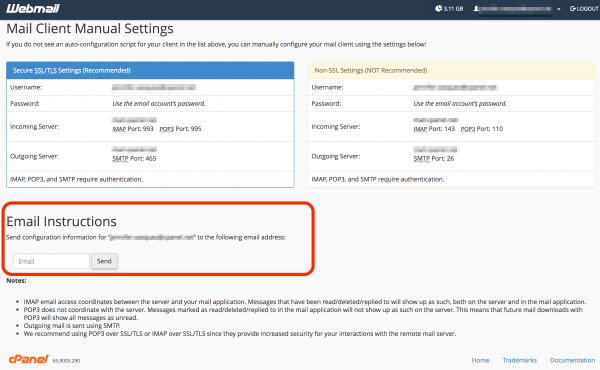 Using that little box inside your webmail interface you can send yourself instructions for configuring any cPanel-hosted email account. The real excitement starts when you notice that the email containing instructions also has a mobile configuration file attached to it. Open that mobile config file on your mobile device and 95% of the work is done for you already. All you have to do is confirm the settings and enter your password. The account is set up for you! Whohoooo!!!